My girls love to write letters and notes. In fact, Faith has never been a child who played with toys very much at all. She loves to read, work on puzzles, find hidden words, draw pictures, and write letters. I find notes written to me all over the place, and it always makes my day to find them. Faith tucks them into her folders, leaves them in her room, puts them in my office, magnets them to the fridge. She doesn't really have a standard operating procedure when it comes to actually giving me the letters. I think she gets them written, and just moves onto the next one without worrying about the delivery. It is part of what I find endearing.

Beth spends a lot of time with her big sister, and has developed some of the same interests Faith has. They both can be occupied for hours with some colored pencils, a stapler, and a ream of paper. Faith even enjoys teaching Beth to write, and will write words for her to copy if she needs it.

So these are some of the letters I have found recently. Beth gave me this one. It is her and I together. For some reason I only have a head, no body, and she only has one eye (I think the other was covered up by her hair)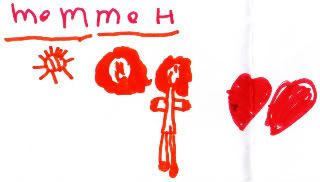 This is a card Faith left on my desk. She is practicing artistic lettering.
I adore this one. I say this to my kids all the time. "You are my favorite Faith." " You are the best Todd in the whole world." I think it is important that they know they are my favorite in some way or another, because they all are for different reasons. I like that she and I are dancing in this one, and I now have a body. For some reason we are both bald, though. (oops... Faith didn't write this one, Todd did. I still love it, though!)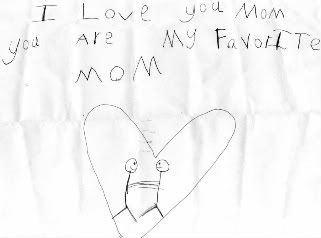 awwwww..... I found this one on the end table at home. I think she got tired of the cursive writing halfway through.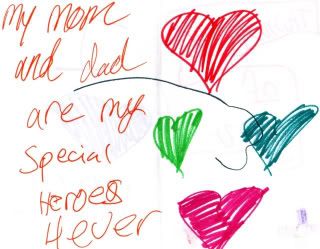 There is a girl in our church who is sick and needs some extra prayers. Last night during our children's program we asked the kids to all make her get well cards. All of the boys and girls got to work drawing and writing, and we have a big thick envelope to mail to her today. I was reading through the cards as I got them ready, and they were all so cute. My girls' cards really cracked me up, though, so I had to scan them to keep a copy for them to see later.
This was Beth's card. She made it very clear that she did not want anybody to help her spell "Get well Lauren." She could do it on her own, thank you very much. I love the cat falling out of the sky onto the houses as well. Houses are another big part of Beth's artwork. She draws them all the time. And who doesn't want flowers that grow a story tall? Is that a cat jumping over a humongous spider on the right???
This was one side of Faith's card. Maybe someday she will make a living designing greeting cards, but I saw those feet after reading that message and laughed out loud. If an angel came to you with a couple of club feet and disjointed thumbs, how would you feel about them healing you???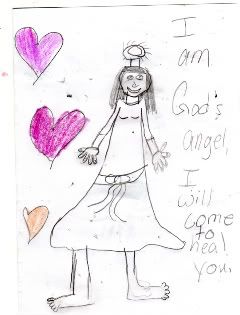 Is everybody smiling now?