I absolutely love fall in Arkansas! The colors that are blanketing the Ozarks right now are spectacular!! I knew I wanted some fall photos, so this afternoon I loaded the kids up and we went to get some. I let Tony come along with us too, so I got some shots of him and Jessica together. We really had a great time. I took over 300 pictures, some posed, and lots of the kids as they were playing. We found a clearing near Eureka Springs that was flat, had lots of trees, stumps, and leaves, and we just stayed there for more than an hour. The only thing I don't like about these kinds of pictures is that while the scenery is gorgeous, the nature of the afternoon sun coming through treetops leaves a ton of awkward shadows to try to work around. I tried to avoid them as much as possible, but some shots were just too fun to try to pose everyone perfectly for and ruin the spontaneous moment. They haven't been cropped or adjusted yet, but here, in no particular order, are some of my favorite shots from today.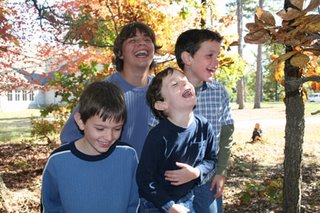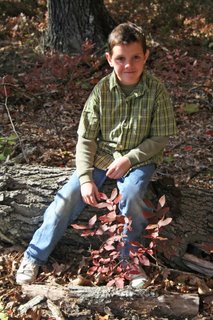 Looking for a job near Eureka Springs??? This sign just cracks me up everytime I see it. (Apparently the position has been open for a while..... hahahaha... this has been here since we moved here.) I sent a copy of it to Leno to see if they want it for the Headlines segment.

Hope your day was beautiful too!